Easy, simple, secure.
F&M Bank's Online Banking is a convenient way of doing your banking 24 hours a day, 7 days a week in a safe, secure environment. You can use Online Banking anywhere in the world!
To get started with Online Banking, contact an F&M Bank team member today.
Your accounts are right at your fingertips with Online Banking from F&M Bank. Manage your day-to-day finances (24 hours a day, 7 days a week, 365 days a year) from the comfort of home, work, or anywhere you have internet access.
Get account information

View Statements

Search recent transactions

Transfer funds between accounts

Pay bills

Make loan payments

Issue stop payments
Pay anyone, anywhere, anytime with free electronic Bill Pay. You determine when you want it to pay; you're in control of your balance. Save your postage stamps for holiday cards.
Go green with F&M e-statements! With e-statements, you'll receive an email notice that your statement is available for your viewing through online banking. You may print it or save the file to your computer.
To sign up for e-statements, follow the steps below.
Log in to Online Banking.

Click on "Profile" in the upper right corner.

Click on "Edit" by the Electronic Statements.

Mark "estatements" by all accounts you would like to enroll in e-statements.

Click on "electronic statements terms and conditions" under the list of accounts - there will be a 4 digit code at the end of the agreement.

Go back and check the box that you have read the terms and conditions.

Enter the 4 digit confirmation code.

Click "save".
To view a statement, follow the steps below.
Log in to Online Banking.

Click on the account.

Click on the "Documents" tab.

Enter the date range.

Click "submit". Your e-statement will populate.

View you statement by clicking on the link, or save your statement by clicking on the icon next to it.
An F&M Bank Debit Card offers a safe and convenient method of making purchases with funds from your checking account. Use at MasterCard Merchants worldwide. ATM withdrawals are surcharge free at
F&M Bank ATMs and any MoneyPass ATM
.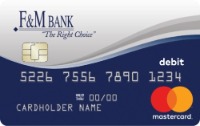 F&M Bank brings to you a complete set of prepaid cards providing payment solutions at your fingertips. Prepaid cards are a safe & convenient way for gifting, travel and hundreds of other applications.
Direct Deposit and Automatic Transfers
Automate your paycheck deposit into your personal account. You can also set up regular transfers between checking and savings.